Hi everyone! Today's I've invited guest blogger Jessica to share her ideas for revitalizing bedrooms for the whole family. I hope you enjoy her useful tips and tricks.
Creating Ideal Bedrooms for the Whole Family
Renewing the bedrooms for the whole family can be a pricy prospect, but it does not have to break the bank, nor do you have to go through months of having only one or two good-looking bedrooms, while the rest of the family have to 'put up' with older, scruffier furniture and décor. Try to make small changes to all the rooms at the same time, by employing the following useful hints and tips.
Add a touch of glass: Glass looks wonderful, and, while not recommended for very young children, can add a real sophistication to any room. For children, especially young ladies on the cusp of teenager-hood, it can take the form of a lovely scaled down chandelier, while older children and the adults may enjoy a beautiful glass display on a dresser or shelf.
A patch of home comfort
Patchwork looks wonderfully inviting and comfortable, and the beauty of it is that you can now buy exquisite patchwork quilts from online vendors such as
folksy.com
, and even patchwork effect duvet covers and matching curtains can be obtained fairly easily. If you are lucky enough to source wallpaper that features a patchwork pattern so much the better and the room will soon look warm and welcoming!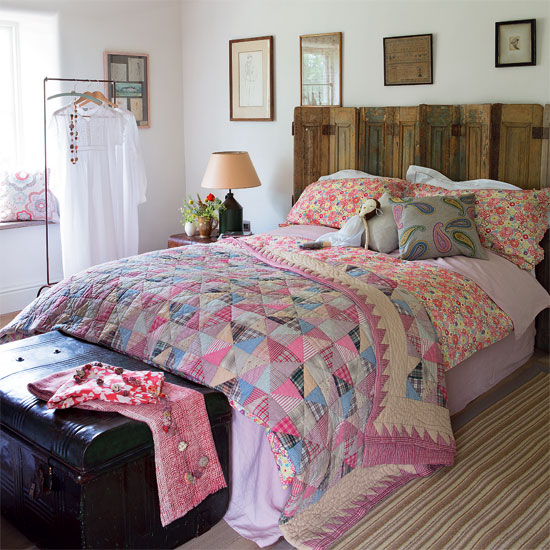 Some masculine majesty: Treat the man in your life to a beautifully masculine bedroom. Strong clear colours on the wall, leather effect furniture and staid, frill-free lighting add up to a tempting, yet manly haven of sleep! Your choice of bedding must follow the theme and sites such as
yorkshirelinen.com
can help, offering a fabulous range of bedding. In fact, for every bedroom style, you will achieve a better effect by splurging on fresh new bedding for all the rooms.
Renew and restore

: Save some precious pennies in the budget by re-using as much furniture and as many of the soft furnishings as you can. A pair of curtains from a large bedroom that are beginning to fray along the bottom can be cut down to fit into a smaller room. Large duvet covers with wear and tear along the seams can be made over into bolster pillows, quilted floor mats for the children or even into smaller duvet covers for single beds.
Go for contrasts: If you feel a bedroom looks a little dull, but is actually in quite good condition taken piece by piece, add some sparkle back into the room by utilising a strongly contrasting colour. For example a cream and beige room is completely transformed by the addition of crimson pillows and perhaps a throw – or even a rug. Alternatively, a gorgeous royal blue splash can add a cooling and comforting touch. Dress up browns with a hint of acid green and inject white rooms with a bit of the rainbow – not too much, just a little item here and there in lively and lovely colours!

Low maintenance is the way to go: For each awkward to clean, fussy piece of furniture removed from a room, add in one that is extremely easy to clean. Wipe down surfaces, rugs small and durable enough to fit into a domestic washing machine and floors that merely need the services of a broom once in a while will help you to keep the housework up-to-date in mere minutes each day. No matter how expensive a room's decor is, it can all be spoiled by a festooned cobweb or thin layer of dust on the surfaces. Rooms that are easy to clean will not be a daunting prospect and you will happily tackle the job more often than otherwise!
Implementing these hints may use up a little ingenuity and creativity, not to mention a small cash investment. But one thing is certain – you will love your new bedroom when it is done, and so will the entire family!